Born, April 29, 1969 in Seattle Washington, Jack Mackenroth is an accomplished swimmer, Model, and and Fashion designer.
Project Runway
Edit
Jack had shown amazing skil on Project Runway, never being in the bottom three or showing any trouble. Jack even won the Men's wear challenge. Jack may have gone on very far int he competition, however due to a staph infection, he decided to withdrawl from the competition, and was replaced by Chris March. Everyone was expecting for him to return to season 5 of Project Runway however, he did not.
Jack was a model throughout the 90's, doing photo shoots for Men's Fitness, Men's Journal, Paper, DNR, and Genre. Jack is a very promising Model, due to his exquisite good looks and heavenly body, which he is not afraid to show off.
Sexuality Jack Mackenroth is openly gay and dated Top Chef Season 3 contestant, Dale Levitski.
Athletics
Edit
Jack is a very accomplished athlete as well. He is an excellent swimmer. He was a competitive swimmer from elementary to high school and continued when he attended college. Jack has gotten many medals and awards for his performances. He has also competed in the Gay Games and has set a national record along with his team in 2006 in the relay games.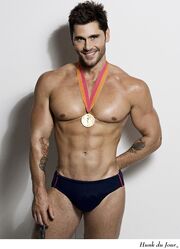 Ad blocker interference detected!
Wikia is a free-to-use site that makes money from advertising. We have a modified experience for viewers using ad blockers

Wikia is not accessible if you've made further modifications. Remove the custom ad blocker rule(s) and the page will load as expected.