Ad blocker interference detected!
Wikia is a free-to-use site that makes money from advertising. We have a modified experience for viewers using ad blockers

Wikia is not accessible if you've made further modifications. Remove the custom ad blocker rule(s) and the page will load as expected.
Models of the Runway is a continuation of Project Runway. It runs concurrent to the series and features the models that are also competing in Project Runway. Before Models of the Runway is the first time viewers are invited to see what happens behind the scenes of the main show. It is also hosted by Heidi Klum. Tim Gunn also appears at the end of each episode to bid the model farewell and remind her that she must pack up and head home.
The models are housed together each season, like their companion designers on Project Runway. Consequently, many friendships, some conflicts, and occasional animosities can be observed. Also, because fashion modeling is a competitive occupation, Models of the Runway examines rivalries among the models, relationships with the fashion designers, cosmetic techniques, and individual personalities, as well as career histories and aspirations.
The series has been canceled. It ran for two seasons on the Lifetime network from August 2009 until April 2010 and corresponded to Season 6 and Season 7 of Project Runway.
The first season of Models of the Runway is a spin-off of the
6th season
of
Project Runway
.
Winner: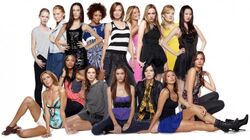 The second season of Models of the Runway is a spin-off of the
7th season
of
Project Runway
.
Winner: