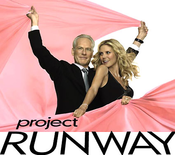 Project Runway is a Lifetime Television reality series (previously on the Bravo network) that focuses on the world of high fashion. Hosted and executive-produced by model and fashion guru Heidi Klum, the series provides young designers with the opportunity to launch their fashion careers under the guidance of a chic panel including Tim Gunn, Nina Garcia, and Michael Kors. Each season, contestants compete with each other in various challenges while restricted in time, materials, and/or theme. The designers' clothing creations are then judged, and one or more designers is eliminated.

"Project Runway" is executive produced by Jon Murray and Sara Rea of Bunim-Murray Productions ("The Real World"). Heidi Klum, Desiree Gruber and Jane Cha of New York City–based Full Picture also executive produce the series. John Miller and Barbara Schneeweiss oversee the production on behalf of The Weinstein Company.

On July 4, 2006 the show's producers, Weinstein Company, announced a five-year deal that would relocate the show to Lifetime Television, beginning with Season 6. In response, NBC Universal filed a lawsuit against the Weinstein Company for violating its contract rights. A September 2008 court decision granted NBCU's request for an injunction, preventing Lifetime from promoting or exhibiting "Runway" until further notice.