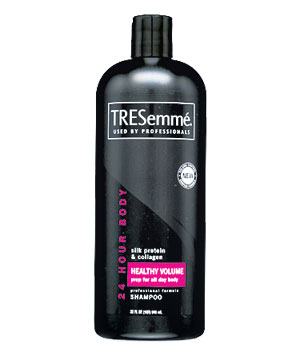 TRESemmé is a brand of haircare products. TRESemmé was first manufactured in St. Louis, Missouri, in 1947, by Godefroy Manufacturing Company. The brand name is a word play and reference to Edna L. Emme, then a leader and national spokesperson for the professional hair care industry. TRESemmé's haircare product line was initially marketed only to professional salons, but now is sold in supermarket's worldwide. The TRESemmé brand was bought by Alberto-Culver in 1968. TRESemmé's products are popular for hair repair treatment from heating damage caused by hair ironing and blowdrying.
Ad blocker interference detected!
Wikia is a free-to-use site that makes money from advertising. We have a modified experience for viewers using ad blockers

Wikia is not accessible if you've made further modifications. Remove the custom ad blocker rule(s) and the page will load as expected.